So this year's theme was "silver screen" and while browsing youtube I stumbled upon this Bety Boop make-u tutorial:
www.youtube.com/watch?v=liKWO1-Gmic by Kandee Johnson. I thought to myself, wow that is so weird and scary looking in itself, imagine how it will look zombified....

I couldn't find any look-a-like ready made simplicity patterns during the weekend $1 pattern sale so I bought Simplicity 2072 one for the semi-sweetheart bodice of view A and changed it a bit. I used a red-hot crepe-backed satin from my stash. I was all set to go out and buy some red, but, yay! Here it was!

I basically sewed the bodice according to the instructions for view A, and just didn't attach straps. I did have trouble with it sliding down after a couple minutes, mostly because there was too much ease in my finished product. I sewed down to the wire so since I had no time instead of ripping out the stitches on my zipper to sew it a little tighter I just went ahead and attached my clear plastic straps to my (formerly) strapless bra so I could safety clip the dress around the straps. The clips closed around the straps and were invisible from the front since they were attached to the lining. Worked beautifully, not a problem all night.

For the skirt I used the pattern pieces from the skirt lining since those were ungathered, and were already a basic A-line-like shape that perfectly matched the bottom of the bodice with no alterations needed. I added a good 6 inches to the bottom of the skirt pieces to lengthen my skirt. Then I cut it up asymmetrical and ragged, leaving it unhemmed for more of a zombie look.

I made a garter by cutting a three inch strip of white fabric, ends left unhemmed, and sewing a stretched piece of 3/8" elastic (slightly shorter than the circumference of my thigh) to the strip. Instant gathers! Sew edges together and hot-glue-gun a felt heart on it.

Didn't Betty Boop have a dog?


Yes, she did! And he became undead too! I went to Goodwill and found a cute white plush dog for $0.99. I slit him down the back and gutted him, and sewed a nice little pouch made from two rectangles into the back, big enough to fit a phone and make-up for touch-up. I didn't end up having time to hand sew the zipper so I just kept it closed with a big safety pin. I used felt to make him the black spot, classic 30's cartoon eye, dead zombie eye, and exposed ribs. I either hand-sewed or hot-glue-gunned it to the dog. I made a strap from the dress material and hand-sewed it to the dog's shoulder's so he would hang in such a way as to show off his cute zombie face. I cut out three black hearts and hot-glued them to the strap.

Those Eyes! Did you shave your eye-brows??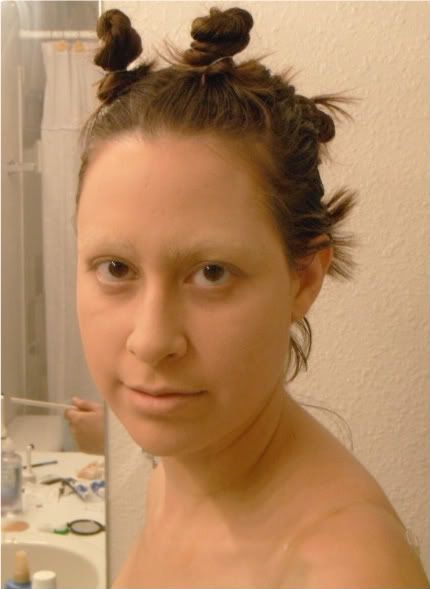 No! You can actually cover up your eyebrows pretty well with glue-sticks, powder, and concealer. Look up tutorials on youtube, it's soooo easy and cheap. No latex or anything special at all! I spent a grand total of $3.00 at the dollar store for the glue, powder and liquid concealer (I didn't want to get glue on my real makeup, lol.)

The Hair

I couldn't find a good Betty Boop wig so I ended up dressing up my hair like hers. By this time I was running waaaaay late so I did it in just 15 minutes. My hair is about an inch past my shoulders. I took the bottom half of my hair (leaving out the face-framing bits) and pinned it in a bun and curled the rest, pinning lock by lock so curls would pop out and it would look like a short curly bob. I then took a $0.99 can of black hair spray color and went over it good. If it was a bit messy because of time constraints... oh well, I was a zombie, the undead life is rough on hair.

Mmmm.. brains...

I went with minimalistic impact on the zombie thing. I didn't really mess-up my clothes or slop bood all over the place. Just down my chin into my decolletage for a freshly fed look and visceral impact. If I were to do it again I might have done it just at the corners to not take away from the impact of the weird button mouth. I don't know. By the way, I recommend home-made blood (from corn syrup) versus the storekind I used. Mine was cracked by the end of the night, but my boyfriend's (albiet sticky) blood kept a shiny blood-like look well past the witching hour. Look up a recipe online, he even made a great looking bite mark using "flesh" made out of corn starch. More natural looking than the latex glue-ons I thought.



How'd you die?

Slit throats are soooo overdone, don't you think? I went with the strangle bruises. I just mixed up some of the green, blue and red face paint, smeared my hands and almost popped my arms out of their sockets trying to place my hands in the same orientation as if it had been done by another person. I blended them with blue, purple and yellow eyeshadow. (sorry make-up brush-- should have bought extras of these at dollar store!!).

Anyway~~~ Hope you liked my Zombie Look!!